5 romance novels perfect for beach reading
As any woman will tell you, behind every successful marriage there is likely to be a secret or two – for example, the fact that not every single pair of shoes she's bought in the last 14 years was reduced to half price. Still, any divorce lawyer who overhears your conversation will attest that secrets, especially significant ones, are not conducive to long-term marital happiness. They can pull a couple apart even if the motive behind them was well-meaning. These five novels defy that axiom: their plots are shaped by secrets that come close to destroying relationships – and in some cases, lives – and yet honesty wins out.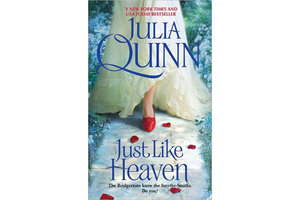 1.

"Just Like Heaven," by Julia Quinn

Julia Quinn creates utterly charming characters who, generally speaking, lead enviable lives. The hero and heroine of her new novel Just Like Heaven, are no exception. Marcus Holroyd, the Earl of Chatteris, is handsome and rich, if a bit shy and lonely. Miss Honoria Smythe-Smith is a lovely young woman, albeit humiliated by her lack of success on the marriage market. Quinn's plot stems from the way even the kindest secrets, secrets kept for someone's own good, can destroy lives. Some years before the novel begins, Marcus made an ill-advised promise to his closest friend, Honoria's brother. The promise is one thing – but when he neglects to tell Honoria, the consequences come near to killing him. That one secret ricochets through the novel, leading to a dramatic revelation… and a broken heart.