Reader recommendation: Savage Will
Monitor readers share their favorite book picks.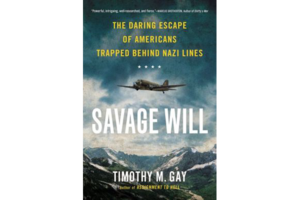 On November 5, 1943, 26 nurses, medical technicians, and a crew of four left Sicily in a C-53 bound for Bari, Italy, to care for recently wounded soldiers. Due to inclement weather and malfunctioning equipment the plane flew off course and crash-landed in central Albania which, at the time, was controlled by the Nazis. With a lack of food, weapons, and proper clothing, this group would spend the next 62 days trying to survive and escape. This true ordeal is retold by Timothy M. Gay in his book Savage Will. Against all odds and many physical and mental challenges, the entire group survived and were rescued through the cooperation, encouragement, protection, audacity, and generosity of local partisans. This book will remind readers of the experiences recounted in "The Great Escape" and "Argo."