Reader recommendation: For All the Tea in China
Monitor readers share their favorite book picks.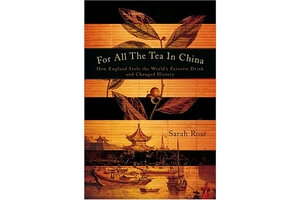 For All the Tea in China: How England Stole the World's Favorite Drink and Changed History by Sarah Rose is a fascinating story of global corporate theft and espionage. In 1848, the British East India Company sends botanist Robert Fortune to China with a mandate to steal tea plants and secrets. The Company intends to start tea plantations in the Himalayas and eliminate China's tea trade. Fortune, disguised in Mandarin dress and traditional pigtail, travels illegally and dangerously in China, having many adventures and close calls.