Are anti-Clinton books a good sign for Hillary?
(Read article summary)
Books like 'Blood Feud' by Edward Klein and 'The Real Benghazi Story' by Aaron Klein may actually demonstrate that Clinton has returned to political power.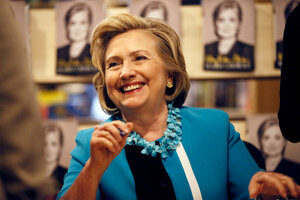 Jerry Holt/The Star Tribune/AP
After decades of dormancy, a spate of anti-Clinton books is hitting the market, and observers reading between the lines are calling it proof positive of Hillary Clinton's return to political power.
"There may be no clearer sign of Hillary Clinton's political reemergence than the flurry of new books critical of her," Politico reported in a recent article. "It's all testing the depth of a market for anti-Clinton fare that had gone mostly dormant – and triggering a fierce campaign by her defenders to shame the mainstream media not to write about the books, lest they lend them legitimacy." Politico calls it "the summer of anti-Clinton books." 
In other words, Clinton's comeback, including her recent book, "Hard Choices," as well as her possible run for office in 2016, has roused a fervent anti-Clinton movement that appears prepared to battle the former Secretary of State should she decide to seek political office. And for now, at least, the leading front in that movement is books. 
The lineup includes both published and forthcoming titles including "Clinton Inc," by Weekly Standard writer Daniel Halper; "Blood Feud," by Edward Klein, which knocked Clinton's bestseller "Hard Choices" from atop the New York Times bestseller list this month; and "The First Family Detail," by Ronald Kessler.
So numerous are the books and so pointed their allegations that the Clintons issued a strongly worded statement censuring the books,  and those in the media who dare to cover them.
"We now have a Hat Trick of despicable actors concocting trashy nonsense for a quick buck, at the expense of anything even remotely resembling the truth," explained the statement. "It's an insult to readers [and] authors, and should be reserved for the fiction bin, if not the trash.
"Their behavior should neither be allowed nor enabled, and legitimate media outlets who know with every fiber of their being that this is complete crap should know not to get down in the gutter with them and spread their lies," the statement added. "But if anyone isn't sure, let's strap all three to a polygraph machine on live TV and let the needle tell the truth."
One of the books' authors, Klein, responded to the statement. "In typical Clinton fashion, when people can't handle or respond to the truth, they attack the messenger," he said, according to reports.
Here's a closer look at the books:
"Clinton Inc." offers a closer look at the "Clinton dynasty," from Bill Clinton's near-impeachment in the late '90s to Hillary Clinton's 2008 defeat to her present-day reincarnation. In it, author Halper alleges that Clinton's health scare in December 2012 was a stroke, not a concussion. 
The publisher of "Blood Feud" says it goes inside the fraught relationships between Barack and Michelle Obama and Bill and Hillary Clinton, with recreated conversations between the first families. But many, including conservative radio host Rush Limbaugh, have questioned the material.
Secret Service writer Kessler's "The First Family Detail" focuses on the security situation of first families but also includes rumors of Bill Clinton's purported infidelities. 
"The fact is that my book is entirely nonpartisan and presents startling revelations about both Republicans — including some of the saints of the GOP — and Democrats, as well as about Secret Service laxness and corner cutting that threaten the life of the president," Kessler told Politico. 
Meanwhile, the upcoming Aaron Klein book "The Real Benghazi Story" addresses the Benghazi attacks and speaks to a large conservative audience convinced there was an administration cover-up.
Both the credibility and the success of each of these books is uncertain.
Not surprisingly, they have been roundly dismissed by the Clinton camp, led by David Brock, the Clinton's chief public defender and head of media group Media Matters. Edward Klein's book in particular, "Blood Feud," has come under scrutiny, even by some conservatives.
[Editor's note: The original version of this article incorrectly identified the book under scrutiny by conservatives.]
Perhaps the more important point, however – will the books sell? 
While "Clinton Inc.," has sold just under 3,500 copies, according to Nielsen BookScan, "Blood Feud," has done well, selling just over 100,000 copies so far and knocking Clinton's own book from the NYT Bestseller list for a month. 
Clinton's "Hard Choices" which came out in June, has sold just under 250,000 copies, according to Politico.
Roger Stone, the former Richard Nixon operative, predicted that the current market for anti-Clinton books will prove robust, the political website reported.
"The one segment of the book market that is thriving is conservatives," Stone told Politico. "They read. The tabloids also show there is also an insatiable public interest in any gossip about the Clintons."
And, he added, "it will only get bigger if she runs."
Husna Haq is a Monitor correspondent.