Scott Blackwood's 'See How Small' attracts critical praise
(Read article summary)
Blackwood's novel centers on a crime that takes place in a Texas town, examining the aftermath of the crime – and the afterlives of its victims.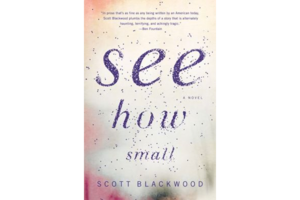 The book "See How Small" by Scott Blackwood, which was recently released, is attracting critical praise for its story of three deceased teenage girls who watch their town from the afterlife.
"Small" was released on Jan. 20 and centers on three girls who are killed when the ice cream shop where they work is attacked. Elizabeth, Zadie, and Meredith see how the residents of their Texas town react to the crime as they continue on in the afterlife. The novel was selected by Amazon as one of the best books of the month. 
Now NPR has reviewed the book as well, with NPR critic Michael Schaub calling the book "near-perfect." 
"Scott Blackwood has written a beautiful, terrifying novel about how a community deals with the sudden loss of three of its youngest members," Schaub wrote. "Blackwood's portraits of all these characters are surprising and compassionate. Not a single sentence in See How Small is maudlin or overwrought; he treats his subjects with respect and a brutal emotional honesty…. It's not an easy book to read… a brutal, necessary, and near perfect novel." 
Publishers Weekly awarded the novel a starred review, calling it "a genre-defying novel of powerful emotion, intrigue, and truth…. [Blackwood uses] deft prose to mine the essence of human grief and compassion."
Meanwhile, Kirkus Reviews found that "the novel is strikingly creepy, if a bit affected – the brevity of the chapters and gauzy prose have a lyrical effect but also make the story feel diffuse, with no one peculiar, uncanny moment given the chance to build up a head of steam. Blackwood is an excellent stylist, though in the name of unconventionality, the reader lacks a few narrative toeholds."