Steve Martin will reportedly star in 'Billy Lynn's Long Halftime Walk'
(Read article summary)
The movie is being directed by 'Life of Pi' helmer Ang Lee.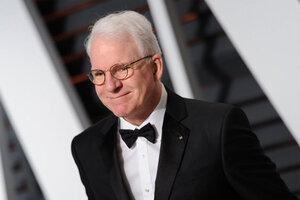 Evan Agostini/Invision/AP
Actor Steve Martin will reportedly star in the movie adaptation of Ben Fountain's novel "Billy Lynn's Long Halftime Walk." 
According to Deadline, Martin will appear in the movie but his role was not mentioned. The film is being directed by Ang Lee of "Life of Pi" and will also star Garrett Hedlund of "Unbroken" and actor Joe Alwyn. 
"Billy" was published in 2012 and tells the story of member of the military Billy and the others in his squad, who fought in Iraq. After a firefight in which they were involved aired on TV, they became celebrities and are brought back for the Thanksgiving Day football game, where they encounter everyone from regular Americans who want to share their thoughts on the war to a Hollywood producer who wants to make a movie about them. Monitor fiction critic Yvonne Zipp noted in her review that the book is "inspiring comparisons with 'Catch-22,' and with good reason. Fountain delivers an absurdist portrait of the war and modern society painted with brush strokes laid as precisely and as viciously as a whip. His darkly comic caricature resonates."
"Billy" was a finalist for the National Book Award in the fiction category and won the National Book Critics Circle Award for Fiction. Fountain is also behind the book "Brief Encounters with Che Guevera." 
Martin has recently acted in such films as the 2011 movie "The Big Year," 2009's "It's Complicated," and the 2008 film "Baby Mama." He co-hosted the Oscars with "Complicated" actor Alec Baldwin. Some of his most famous movies include "The Jerk," "Father of the Bride," and "Planes, Trains & Automobiles." 
Hedlund also starred in the films "Inside Llewyn Davis" and "On the Road" as well as the movie "TRON: Legacy." 
Lee won an Academy Award for Best Director for his work on the film "Brokeback Mountain" and won the prize again for "Pi."