Want an Ivy League education? Read these books.
(Read article summary)
What are Ivy League students reading that the rest of us aren't? More British literature and more philosophy.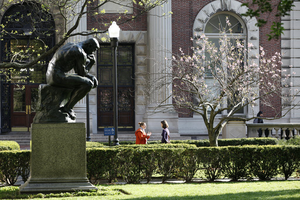 Melanie Stetson Freeman/staff/file
Want an Ivy League education without an Ivy League price tag?
You can come close thanks to the recent release of the Open Syllabus Explorer, an online database of books assigned in over 1 million college courses over the past 15 years.
"[W]ith more than 1 million syllabi in the database, it's currently the best approximation we have for what students are actually reading in college – and for the books that are informing the leaders of tomorrow," writes The Washington Post.
It turns out college students across the board are reading a lot of Plato, Hobbes, Machiavelli, and Aristotle. Many of the books assigned at US colleges and universities draw from the Western canon, perhaps not surprisingly. Students are also reading more books in the humanities, perhaps because science and engineering classes usually assign fewer titles.
But when you drill in a bit deeper, differences emerge between all schools surveyed and Ivy League schools.
Christopher Ingraham at The Washington Post tallied the most frequently assigned books at all US colleges and universities and compared them with the books assigned at seven Ivy League schools: Harvard, Yale, Princeton, Cornell, Columbia, U. Penn, and Brown. (Dartmouth doesn't seem to appear in the database.)
First, here's what students at both Ivies and other schools are reading: Strunk & White's classic writing guide, "The Elements of Style"; Plato's "The Republic"; Thomas Hobbes' "Leviathan"; and Machiavelli's "The Prince."
From there, the lists diverged. Whereas Campbell Biology textbook, Marx & Engels' "The Communist Manifesto," Sophocles' "Oedipus," and Mary Wollstonecraft Shelley's "Frankenstein" appeared on the "All Schools" list, they were missing on the Ivy League schools' list of most commonly read books.
So what are Ivy League students reading that the rest of us aren't? Samuel Huntington's "The Clash of Civilizations" appears at No. 2 on the Ivy League list. Other books include Alexis de Tocqueville's "Democracy in America," John Rawls' "A Theory of Justice," Martin Luther King's "Letter from a Birmingham Jail," John Stuart Mill's "On Liberty," and Robert Axelrod's "The Evolution of Cooperation."
"Overall, the Ivy League list is heavily skewed toward political philosophy and thought – the only book on the list that doesn't fall under this category is Strunk and White's 'Elements of Style,'" writes The Washington Post.
When it comes to English books, it's a similar story. There's some overlap – Shelley's "Frankenstein," Geoffrey Chaucer's "Canterbury Tales," John Milton's "Paradise Lost," and Shakespeare's "Hamlet" make appearances on both lists.
But they differ in important ways. Whereas the most popular English books across all schools included T.S. Eliot's "The Love Song of J. Alfred Prufrock," Charlotte Perkins Gilman's "The Yellow Wallpaper," and Nathaniel Hawthorne's "Young Goodman Brown," Ivies were assigning Jane Austen's "Persuasion," Edmund Spenser's "The Faerie Queene," and Thomas Kyd's "The Spanish Tragedy."
"[A]cross all schools, works by American authors ... are more commonly assigned than at the Ivies, where British authors are more prominent," the Post notes.
The bottom line: Approximating an Ivy League education may be as easy as checking out the right books at the library.