Amid dire economic news, China sees a glimmer of hope
Quarterly economic growth is the worst it's been for 17 years, but figures show the government's stimulus could be taking effect.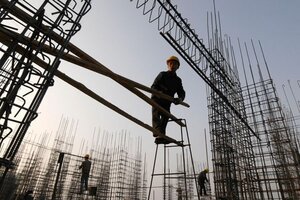 Reuters
China announced Thursday its lowest economic growth rate since records began, but there was brighter news for the world's third-largest economy behind the headline figures.
Year on year, the Chinese economy grew by 6.1 percent during the first three months of this year, its poorest quarterly performance for 17 years. But the first shoots of a potential recovery could be discerned in evidence that the government's $580 billion stimulus package is beginning to have an impact.
"I am still unsure whether we have hit bottom, but growth will pick up in the second half of this year," says Paul Cavey, a China analyst with Macquarie bank.
With Chinese banks lending at record speed on government instructions, and investments in fixed assets such as factories rising by nearly 30 percent, according to government figures released Thursday "that should drive demand," Mr. Cavey adds.
"The overall national economy showed positive changes, with better performance than expected," Li Xiaochao, spokesman for the National Bureau of Statistics, told reporters as he released first quarter economic data Thursday.
But slumping exports in the face of a worldwide fall in demand put "the pressure of a slowdown" on the Chinese economy, he added. Exports fell 17 percent in March from a year earlier. That marked the fifth consecutive month of decline, but was nonetheless an improvement on February, when exports plunged by nearly 26 percent.
The stimulus package introduced last November was designed to take up some of the slack of falling foreign sales by boosting domestic demand. Automakers have benefited, posting record sales in March, and manufacturers in other sectors are looking to local buyers to step into American and European shoes.
The Canton trade fair – a renowned showcase for the "factory of the world" that China has become – welcomed Chinese purchasers as well as foreign customers for the first time when it opened this week.
At the same time, Chinese manufacturers are hoping that even if the economies in the US and Europe do not recover quickly, their clients there will soon have run their inventories down so low they will be obliged to buy again.
The general mood in China, encouraged by optimistic and reassuring statements from government leaders that their policies will save the country from the worst ravages of the global recession, appears hopeful. The Shanghai stock market hit an eight-month high earlier this week, for example.
Hopes that the Chinese economy might pull the rest of the world in its wake, however, even if it does bounce back, appear unrealistic, says Cavey. Although a rebound could help boost demand for goods from the US, Europe and Japan, currently mired in recession, it would be unlikely to make a decisive difference because the Chinese economy is just not big enough, he argues.
Though China's is now the third largest economy in the world, it is still only a quarter the size of the US economy.
"A pickup in China would not be as good for the rest of the world as a pickup in the United States," Cavey cautions.