Home sales down. But six cities defy housing gloom.
Home sales plunged in July and housing prices may dip again. But in six metropolitan areas, the housing picture is far brighter: Home values are rising and median prices are already well ahead of their peak during the housing bubble. What allowed these metro areas to beat the downturn in home sales prices? Two are state capitols. Five have lower-than-average unemployment. All of them had undervalued real estate, even at the height of the housing boom, says Lawrence Yun, chief economist for the National Association of Realtors (NAR). When mortgage rates fell, "they had room to grow" and home sales rose.
Is your city on the list? Click on the right arrow to see each metro area: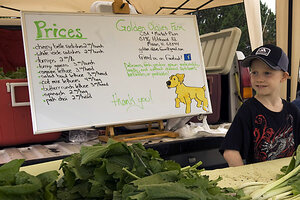 Lisa Morrison/Herald & Review/AP/File
1.

Decatur, Ill.

Known as the "Soybean Capital of the World" and the place where a barefoot 19-year-old named Abraham Lincoln gave his first stump speech, Decatur exudes a certain prairie stability. It missed most of the housing bubble.

Home sales prices peaked in 2006, with the median single-family home going for $85,400. Then home sales prices fell to $83,100 the following year. Ever since, they've trended up, according to NAR data released earlier this month. In the second quarter of 2010, home sales prices had reached a new high of $96,000. (The US median price, by contrast, is $179,000, which is 21 percent below the 2006 peak.)

Decatur has not escaped other symptoms of the great recession. Unemployment is still a high 12.2 percent and the population has fallen 6 percent since 2000. Still, as headquarters city for food-processor giant Archer Daniels Midland, the metro area is seeing employment start to grow again.