Gift cards: Stuck with one? Sell it.
Gift cards are supposed to be the easy answer for that person on your holiday list who has everything. But with $30 billion worth of cards unredeemed, there's clearly something wrong. Here are four tips if you're stuck with one you'll never use – or thinking of buying one for someone else.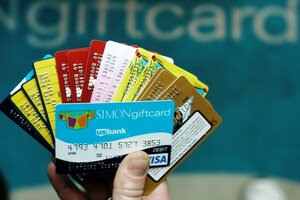 Michael Conroy/AP/File
4.

Sell unused gift cards

That's right. You can sell gift cards you don't want. Several middlemen have popped up to handle the transaction, including CardPool.com, GiftCardRescue.com, and PlasticJungle.com. Users can also buy gift cards at these websites for a discount. "Unused gift cards have real value and shopping power that a consumer can leverage," says Bruce Bower, CEO of PlasticJungle.com. For example: Plastic Jungle will buy a $100 Macy's card for around $80, although prices will vary based on the day.