2011 predictions: interest rates around the world
Currency analysts pay obsessive attention to economic factors that indicate the direction of interest rates, because interest rates represent the price of a currency. Any price change has a direct impact on the currency's value. That can mean huge gains or losses for currency traders, but it also has a big impact on what savers earn, borrowers pay, consumers shell out for imported goods, and global companies plan in terms of compensation and hiring. In 2010, the stress on various currencies became clear, causing many central banks to push interest rates to record lows. Here's a look at how those forces could play out in 2011 in six major regions of the world: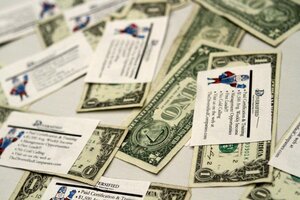 Mary Altaffer/AP/File
1.

United States: Greenback will continue to underperform

After two years in a zero to 0.25 percent range, the federal funds rate has been at an "all-time low" for so long that it has become a cliché. We are, and will be for some time, in the age of ultra-low interest rates. Federal Reserve Chairman Ben Bernanke said more than once in 2010 that, if necessary, the Fed is willing to maintain this rate for an "extended period".

The latest indicators suggest that the US economy is recovering at a slower pace than the Fed expected. November's unemployment rate ticked slightly higher to 9.8 percent, exceeding the Fed's "worst case" projection. Bernanke recently said that it could take four or five years before unemployment falls to the 5-6 percent range considered "full" employment. The Fed also recently downgraded its 2011 growth forecast from 3.5-4.2 percent to 3.0-3.6 percent.

Recent comments and actions from the Fed imply that it expects that the US economy will continue to underperform in 2011. This makes it highly probable that interest rates will remain unchanged well into the new year as the Fed continues to promote a "loose" monetary policy to boost consumer spending.