Foreclosures on the rise: Is your city on the Top 10 list?
Foreclosures have been huge in cities that rode the real estate bubble in the West and in Florida. But the fastest rise in foreclosures is taking place primarily in far less frothy metropolitan areas of the Southeast, according to a new report by RealtyTrac. North Carolina alone was home to four of the Top 10 fastest-rising foreclosure metros last year. While their foreclosure rates are still quite low compared with most places, these metros and their plight illustrate how the poor economy is driving the housing crisis now.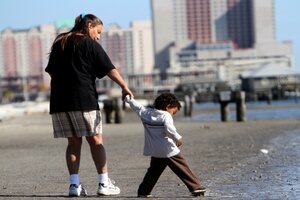 Amanda McCoy/Sun-Herald/AP/File
10.

Gulfport-Biloxi, Miss. – 935 foreclosures

Hit by hurricane Katrina in 2005 and the BP oil spill in 2010, this once booming metro area on the Gulf Coast is struggling to recover. The casinos have reopened, but rebuilding near the beach has been slow – in part because of the dramatic rice in home insurance rates. Gulfport-Biloxi is in no danger of rivaling foreclosure capitals like Las Vegas. With foreclosures affecting less than 1 percent of its homes in 2010, Gulfport-Biloxi's foreclosure rate is 1/12th that of Las Vegas. But while foreclosures fell 7 percent in Las Vegas between 2009 and 2010, according to RealtyTrac, they rose a whopping 73 percent in the Mississippi metro. That's a growth rate almost equal to ...