Top 5 on Forbes rich list? Bill, Warren ... and Carlos!
Forbes came out with its annual ranking of the world's richest people Thursday. This year's Top 5 billionaires made their money in software, luxury goods, investments, and telecommunications. But the No. 1 has pulled far ahead of his rivals. Here's how the Top 5 stack up: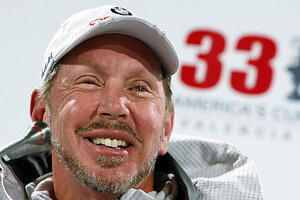 REUTERS/Dani Cardona/Files
5.

Larry Ellison

The third-richest person in the US is also the fifth-richest in the world. Larry Ellison, the co-founder and CEO of the software company Oracle, has a net worth of $39.5 billion. His fortune grew $11.5 billion in the last year to push him up one spot on the list of the richest people. Mr. Ellison lives in Woodside, Calif.