Unemployment down? For these five cities, it has gone up.
Unemployment has fallen to 8.8 percent, the lowest rate in two years. In March, the economy added 216,000 new jobs. But the recovery is leaving some US metros behind. Already mired in above-average joblessness, their unemployment rate is now higher than what it was when the recovery began in June 2009. Here's a look at five of these wrong-direction metros: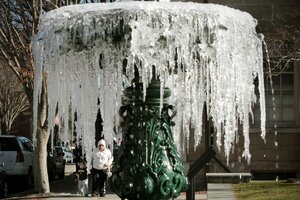 Peter Pereira/The Standard-Times/AP/File
5.

New Bedford, Mass. – 13.7% unemployment (start of US recovery: 11.5%)

In the 1800s, New Bedford was a whaling town. Now it's known for manufacturing as well as fishing, two industries that have been hurt by the recession. The city of 100,000 has lost 1,500 manufacturing jobs since the beginning of the recession 2007 and its unemployment rate has doubled. In June 2009, when the national recovery began, the local unemployment rate stood at 11.5%. Things have gotten worse since then, though a few manufacturing jobs have returned in recent months.