Bugaboo Donkey and 4 other high-end strollers
The Bugaboo Donkey stroller is being released this month in the US. The Dutch-made stroller has up to a $1,660 price tag and a long waiting list of customers. But it's not the only high-end buggy on the market. Here are five boutique strollers that make a fashion statement for the mothers who can afford them: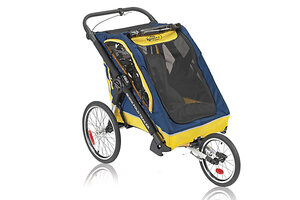 Courtesy of Baby Jogger
5.

Switchback Hybrid, by Baby Jogger - $650

The Switchback Hybrid is for those parents who crave exercise. Hard-core exercise. We're not talking about a brisk walk around Manhattan with a Bugaboo Donkey stroller. We're talking trails, rocks, and hills. The Switchback comes with two separate screens: one for bugs and one for wind and rain. There are powerful brakes for hilly terrain, safety harnesses for two little passengers, and pockets designed specifically for baby's helmet. You can push this stroller or snap off the front wheel and pull it behind you.

The Switchback can haul up to 100 pounds, so some lucky parents may be able to run their middle-schoolers to class and leave the SUV at home.