CEO pay: a look at the Top 5 breadwinners
CEOs at the biggest public companies in the US saw a raise in pay in 2010. The fourth annual analysis by the Wall Street Journal and the Hay Group, a management-consulting firm, shows that the median value of compensation of CEOs at the top 350 companies rose 11 percent, to $9.3 million. Only two of the Top 5 highest-paid CEOs were among the Top 5 the previous year, and only one was on the list four years ago. Total compensation includes salary, bonuses, granted value of stock, stock options, and other long-term incentives awarded for work.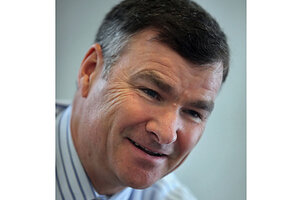 Bebeto Matthews / AP / File
5.

Michael White, DirecTV – $32.6 million

Michael White has been president of the El Segundo, Calif., based company just since Jan. 2010. The former CEO of the satellite-TV provider, Larry Hunter, made only $4.8 million in 2009. The company is expanding – in the first quarter this year, it added 184,000 net new US customers and 427,000 in Latin America. Mr. White has also served as the CEO of PepsiCo International and Frito-Lay's Europe/Africa/Middle East division, and he is a director of Whirlpool Corp.