Joplin tornado: Will it be one of the Top 5 costliest?
Joplin tornado, as Sunday's twister has come to be called, is blamed for more than 100 fatalities in the southwest Missouri community. It's the latest in a string of tornadoes this spring. Though hurricanes and earthquakes tend to do more financial damage per event, tornadoes and related events have been responsible for an average 57 percent of all insured catastrophe losses in the United States since 1953, according to a 2009 study by insurance credit-rating service A.M. Best. Not counting the Joplin tornado, where damage assessments have only begun, here's a look at the five most financially devastating tornadoes in the US, according to the A.M. Best study and federal estimates (reported in 2011 dollars):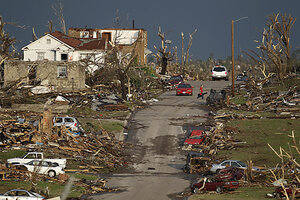 Charlie Riedel / AP
5.

Omaha, Neb., 1975 – $1 billion in damage

A tornado touched down for about 20 minutes on the afternoon of May 6, 1975, just south of Omaha. The tornado, which was more than 200 yards wide, left a path of about 10 miles. It moved northeast through the city, damaging residential and business areas. In all, the winds were responsible for three fatalities – and injuries to 133 people.