Turkey recall: How it ranks with major food recalls
Cargill's Aug. 3 recall of 36 million pounds of ground turkey is the latest in a string of high-profile food recalls in the United States. The volume of meat recalled was a quarter of the largest meat recall on record, but it was linked to far more health effects. The Centers for Disease Control estimates that more than 15 percent of Americans – some 48 million – become ill from food-borne pathogens each year. Most outbreaks are local events; a few are national in scope. Here's a look at some of the biggest food recalls in the past five years: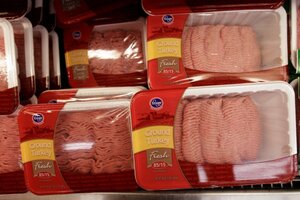 Paul Sakuma/AP
1.

Ground turkey recall – August 2011 (ongoing)

Cargill recalled roughly 36 million pounds of ground turkey products distributed nationwide, asking people who have purchased them to return the items to the stores where they were purchased. The turkey may be contaminated by a multidrug resistant strain of salmonella, according to the US Department of Agriculture (USDA), which caused a surge of cases since February. Federal and Cargill officials linked 79 cases of infection, including one fatality, to the company's turkey processing plant in Springdale, Ark., prompting Cargill to issue the turkey recall Aug. 3. For a list of the recalled products, click here.