Dancing with the Stars: Can it help a career?
"Dancing with the Stars," now in its 13th season on ABC, offers its celebrity contenders a huge amount of exposure – but not much of a career boost. Italian actress Elisabetta Canalis, bounced Tuesday in the second round, is likely to go back to her preshow level of popularity, as have most of the 160 "Dancing With the Stars" contestants. But a few have bucked the trend. Using the show's extraordinary exposure – this year's premiere netted 18.6 million viewers, nearly six times the highest ratings that DWTS contestant Nancy Grace ever got on her eponymous HLN show and more than double what DWTS competitor and US soccer goalie Hope Solo got in the Women's World Cup final this summer – these five contestants have seen their careers take off. Can you guess who was tops?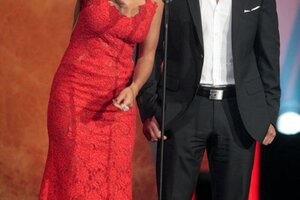 Jason Redmond/AP/File
5.

Mario Lopez

Mr. Lopez has been working steadily in television since his best-known role, as jock A.C. Slater on the early '90's sitcom "Saved by the Bell." In the years running up to 'Dancing with the Stars,' however, his hosting duties included the failed men's talk show "The Other Half," a pet talent competition on Animal Planet, and a kids' game show entitled "Masters of the Maze." Since his strong showing in the ballroom – he came in second in season 3 – he's become a regular host of the TV entertainment magazine "Extra," hosted six seasons of "America's Best Dance Crew" on MTV, twice hosted the Miss America Pageant, and even starred on Broadway in a revival of the musical "A Chorus Line." Not quite A-list stuff, but not dog-talent shows, either.