Thanksgiving travel: Top 3 ways to spot delays
Thanksgiving Day is one of America's most cherished holidays, yet the 24 hours before the celebration begins seem to create the biggest challenges. Will you get to your destination safely? Will you be on time? It's no surprise that Americans encounter snags. Some 42.5 million people will be traveling more than 50 miles this year to their Thanksgiving destinations, according to AAA, a 4 percent increase over last year. Here are three methods to help you plan ahead and avoid travel delays: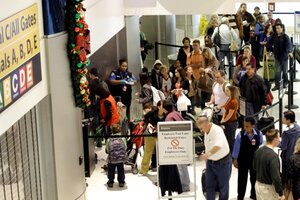 David J. Phillip/AP
1.

Flight delays

Thanksgiving calling you home and you're taking a plane? The Federal Aviation Administration maintains a website where you get flight delay information via the Air Traffic Control Command Center. It will inform you of delays by destination as well as general departure delays and general arrival delays, all in real-time status.

Simply go to the site, decide if your search preference is by region or by airport and then hit enter. Your results will indicate any kind of delay based on air traffic and/or weather. Then, you can check with your individual airline to see if your specific flight is affected. The site also has a glossary of air traffic management terms with definitions of common air traffic acronyms. So, not only can you stay informed about your route, but you can also impress your friends and relatives with some technical flight vernacular!