5 best websites for turning junk into cash
Houses have an almost magical ability to accumulate junk, and everyone seems to have stuff they don't really want and won't ever use. Instead of letting that box of unused electronics or your great aunt's porcelain cat collection turn you into an unwilling hoarder, why not sell it off and make some extra cash? You can try doing it yourself (check out 13 Tips for a Super Yard Sale) or take your stuff to a local consignment shop (although you're going to pay a large commission fee – at least 40 percent of the sale price, according to MSN). Like everything else these days, online is where's happening. But if you want to earn top dollar, make sure you target the right market: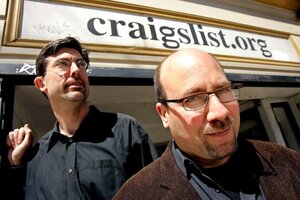 Jeff Chiu/AP/File
1.

Craigslist

Craigslist is like the online version of a newspaper's classified section. You create ads, name your own price, and deal with buyers directly. There are no fees to post an ad on Craigslist, but you'll be doing all the work. For every ad you post, you'll have to communicate with buyers and meet someone in person to finish the deal.

Best for: Larger items like furniture or appliances. Since it's local pickup only, you won't have to worry about trying to ship a couch via UPS or the post office.