Kids tablets: Five touch-screen computers for the nine-and-under set
If Mom and Dad want to use an an iPad, why shouldn't Junior get a tablet computer, too? Many parents appear to be following that line of reasoning, judging by the popularity of tablet-style toys and gadgets this holiday season. Not that everyone loves the idea. Many child-development experts say it's best for kids not to have too much "screen time" each day, for one thing. At the same time, there's a long tradition of kids using gadgets modeled on those used by adults. For shoppers weighing a purchase, here's a look at five options that have been reviewed by Consumer Reports or other reviewers.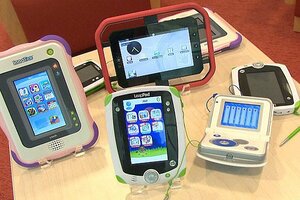 Consumer Reports
1.

LeapFrog LeapPad ($100)

Consumer Reports, in a review of four kids' tablets that deployed children as testers, rated this one "most fun overall."

Like the other tablets Consumer Reports looked at, this one has a color touch screen and can connect to a personal computer to download things like new games or stories. And, like most of the others, it has a headphone jack and uses four AA batteries. The company says the device is for ages four through nine.

It includes a camera and a microphone for recording sounds.

"Whether doodling on photos taken with the built-in camera, creating a story about themselves in the Story Studio, or bringing their favorite characters to life with the Animation Studio, there is truly something for every child," Craig Hendrickson of LeapFrog Enterprises said in releasing the product this summer.

One parent-friendly feature: The LeapPad, through its Learning Path website, allows parents to track how kids play on the device.

Consumer Reports gave this tablet good points for ease of use and for being able to adjust to various levels of difficulty as children grow.

Be prepared to pay extra for games story-book or downloads. The device comes with just four applications to start with.

And be warned: The screens on most kids' tablets (this one included) probably won't seem as responsive to touch as, say, an iPad or an Android smartphone. "During our video shoot, we noticed the kids pounding on screens several times," Consumer Reports said in ins report. "It's a good thing these devices are tough!"