Top 12 best cars for the money
Consumer confidence may be rising, but it still makes sense to watch every penny – especially with big purchases, like a new car. Although auto sales perked up in 2011, value is still the name of the game. U.S. News Best Cars spent months analyzing thousands of professional reviews, as well as reliability and safety data, to create the 2012 Best Cars for the Money Awards. Here are the 12 most highly praised low-cost, low-maintenance models for 2012: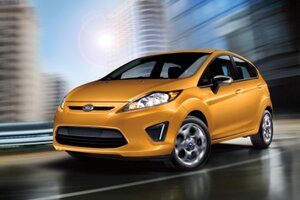 Courtesy of Ford/File
1.

Best subcompact – Ford Fiesta

Subcompact cars are no longer the models you buy because you can't afford anything better. Today's small cars are safer than the tiny tin cans of yesteryear, and they have better performance. Car companies are also putting high-tech features like Bluetooth into small cars, so you can get one that's nearly as well-equipped as a high-end car.

The 2012 Ford Fiesta is emblematic of this trend, and reviewers love its peppy urban performance, high-end feel, and extensive options list. Even though you can outfit it with Ford's SYNC system, which allows you to use voice commands to control most of the interior systems, the Fiesta is no budget-buster. The Fiesta can get up to 40 miles per gallon (m.p.g.) on the highway and starts at just $13,200. It's also a top safety pick for the Insurance Institute for Highway Safety (IIHS), an honor it earned for its strong crash-test performance.