Home prices: How they are faring in six 2012 swing states
Home prices are recovering in some regions, fluctuating in others, and stuck in the basement in still others. How they are faring may yet be an important factor in the 2012 presidential election, as voters stew over the economy. Here's the status of home prices in metro areas in six swing states, measured from the housing market's peak in 2006 to last November, according to the S&P/Case-Shiller Home Price Indices.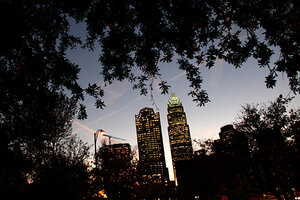 Carlos Barria/REUTERS
1.

Charlotte, N.C. – Recovering

Charlotte, N.C., will host the Democratic National Convention in September. The city is the corporate headquarters for Bank of America, Duke Energy, Lowe's, and Family Dollar, and its economic base is a mix of manufacturing, retail, education, and transportation. The largest employment sector, banking, has struggled. Home prices fell 13 percent from the peak of the market, but have increased 2 percent over the past year.