A hard landing for China? Six top economists weigh in.
China's economy grew 8.9 percent last quarter, the slowest pace in 2.5 years, and on Monday Premier Wen Jiabao cut the nation's growth target for 2012 to 7.5 percent, an eight-year low. Worries of a Chinese hard landing, defined as a sharp and sudden deceleration in growth, have gained momentum. However, China has been proactive in its efforts to prevent a hard landing. It has fine-tuned its policies to curb inflation, boost domestic consumption, and prevent a housing bubble. The Chinese government intervened heavily from 1989 to 1991 to cool its economy, causing real growth in gross domestic product to plunge to 4.1 percent in 1989, from 11.3 percent the previous year. It stepped in again in 1993. And some argue that this time around it's no different, and that the government knows exactly what it is doing. So we asked six top China analysts whether they saw a hard or soft landing scenario and what we should keep an eye on.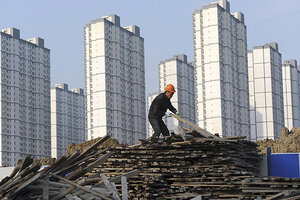 Reuters/File
1.

Soft landing in 2012, but with strong headwinds

Ting Lu, China economist, Bank of America-Merrill Lynch:

We believe that the Chinese economy will have a soft-landing of growth in 2012, but with strong headwinds. We expect 8.6 percent GDP growth in 2012.

There are two key elements to our view. First, we do see both external and internal risks to our growth forecasts. The biggest risk to our soft-landing call is a much worse eurozone sovereign debt crisis, while the second biggest risk is the falling property investment under the severe property tightening measures. Second, we believe the Chinese economy has a relatively healthy balance sheet and the government is flexible to adjust policy when it is necessary to deliver stable growth (moderate decline is allowed).