Income tax refund: five tips for maximizing it
People are always looking for ways to get every dollar back they deserve at tax time. Fortunately, there are some smart moves you can make before April 17 to help maximize your income tax refund. Spending a few minutes now will save you time preparing your taxes and can help you get big savings. Here are five tips to get you started: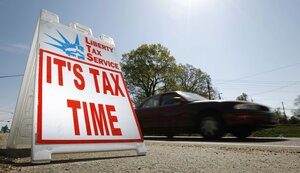 Kevin Lamarque/Reuters/File
1.

Get organized to maximize your income tax refund

One of the benefits of getting things organized is that you'll be prepared and ready when it comes time to file your taxes. You will want to pull together your tax forms like W-2s and 1099-DIVs or 1099-INTs. Make sure you have any receipts from work-related expenses. Also, having documents like your property tax, mortgage interest, and tuition statements will make things easier when you start preparing your return and help avoid missing a deduction that can boost your income tax refund.