Earth Day: Five ways we affect the planet
The late Sen. Gaylord Nelson (D) of Wisconsin organized the first Earth Day in 1970 after the devastating oil spill off the coast of Santa Barbara, Calif. The event started as an environmental teach-in, with some 20 million Americans taking part on college campuses across the United States. Today, 500 million people in 175 countries observe Earth Day on April 22 as a way to celebrate the natural world and raise awareness of the environment. How much do humans affect the earth? Click below to find out.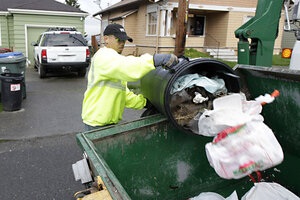 Ted S. Warren/AP/File
1.

Waste: 4.4 pounds per person per day

Americans threw away 250 million tons of trash on 2010, of which about a third was recycled, according to the Environmental Protection Agency (EPA). That's a big jump from 1970, when we recycled only 6 percent of our trash. Then again, we only generated 3.25 pounds of waste per person per day back day.'

Recycling activities generated $715 million in revenues for US companies in 2010 – an increase of 26 percent from 2009. Toxic-waste disposal is even bigger: $1.6 billion, with revenues jumping a whopping 36 percent from 2009. Asbestos abatement topped them both: $2.5 billion in revenues, an increase of 22.8 percent from 2009.