Top 5 ways to save on your summer vacation
If you're pining for a summer vacation but worried about costs, consider how Wayne and Pat Dunlap of Del Mar, Calif., managed to tour 51 countries over two years, marvel at the Egyptian pyramids, scale a New Zealand glacier, and visit Laotian Buddhist monks all for less than $100 a day. "We often stayed at guesthouses and hostels, ate at local family restaurants, took public transportation, and in some cases, traveled on cruise ships offering reduced rates," says Mr. Dunlap, author of the travel book "Plan Your Escape." This year amid price worries and higher summer airfares, especially to Europe such ingenuity could prove essential. Here are five cost-cutting strategies that can help: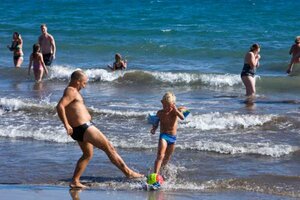 Borja Suarez/Reuters/File
1.

Choose destinations wisely

Locales closer to home, from nearby beaches to national parks, can offer value as well as great times for adults and children. Overseas, Americans can get exceptional deals in Brazil and countries in Eastern Europe, thanks to favorable exchange rates against the US dollar, reports Christy Grimste, editor of Destinations Uncovered, a digital magazine based in Tampa, Fla. In Spain, especially in the Canary Islands and Ibiza, and along the southwestern coast of Turkey, summer hotel rates are as much as 30 percent lower than they were last summer, she reports.