Top 10 cars for summer
Wind in your hair, sun in your face – the summer drive is as classic a pastime as barbecues and baseball. For dedicated sun-seekers, the right machine can make all the difference, and since most of us can't afford the demi-convertible Maybach Landaulet limousine, here are 10 fun-loving new models sure to keep a summer smile on your face. Climb into one of these this season, and you'll be happy to keep driving duties for yourself.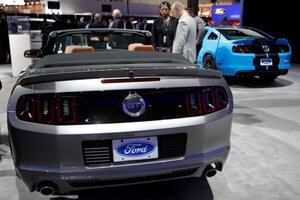 Danny Moloshok/Reuters/File
1.

Ford Mustang Convertible

Since its retro redesign in 2005, the Mustang has returned to the good graces of critics and enthusiasts after a few generations that were decidedly unimpressive. The subsequent 2010 facelift solidified its place in America's heart with a striking modern interpretation of a classic design. Inspiring performance paired with practical usability make the new Mustang something Americans can once again be proud of.

Anyone shopping for a Mustang will invariably look at the Chevrolet Camaro as well, the car's natural rival that has recently undergone a major redesign of its own. However, the general consensus among the automotive press is that Ford's entrant to the "pony car" class is the superior option, thanks to a more refined power plant, more usable cargo room, and better interior ergonomics.

The Mustang convertible line runs a huge range of pricing and performance with the V6 powered base model starting at $27,200 (the hardtop is about $5,000 less) and the fully equipped Shelby GT500 leaving the shop for over $60,000. While I'm sure holding the reigns of the supercharged V8 in the Shelby is an exhilarating experience, almost all Mustang users will get all the performance they need out of the V6, which cranks out a substantial 305 horsepower (hp.) and gets 31 m.p.g. on the highway.