Father's Day gifts: 5 things to do with Dad for under $150
Father's Day gifts are around the corner, and we're splurging a little more on Dad this year. According to the National Retail Federation, the average person will spend $117.14 on Father's Day gifts in 2012, up from $106.09 in 2011. The top spending category? Experiences, with people spending upwards of $2.3 billion taking Dad to restaurants, ballgames, and on vacations. This suggests that, more than anything, we want to spend time with our papas. So, in lieu of that ugly tie or NFL coffee table book, here are five suggestions for Father's Day outings. All will cost you less than $150 per person, so you can spend the day together without breaking the bank.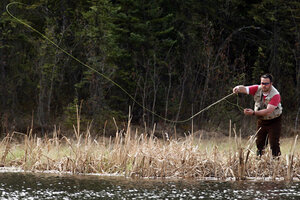 Eric Engman/Fairbanks Daily News-Miner/AP/File
1.

Father's Day fishing course ($99 and up)

A Father's Day gift of the great outdoors? State-run wildlife fish and game departments across the country offer family fishing courses for under $100 a head.

Atlanta Fly Fishing School in Atlanta offers a five-hour beginners' course for $125 per person. Clothier L.L Bean's Outdoor Discovery Schools in Freeport, Maine, offers an introductory fly-casting course for $99, as well as an introductory fly-fishing class for $129. (If you really want to splurge, you can book a fly-fishing cruise to the Bahamas through americanflyfishingschools.com. Rates start at $189 per night.)

An even cheaper Father's Day gift: Front the money for a pair of state fishing licenses, so you and Dad can take fishing trips together throughout the year. In Florida, for example, residents can buy combination freshwater/saltwater permits for $32.50 per year.

There are various Father's Day fishing tournaments around the country. The Port of San Diego is holding a Big Bay Father's Day Fishing Tournament from three of its ocean piers – with no charge for boys and girls under 16 who are accompanied by an adult. Marcus Hook, Pa., is holding a fishing derby on the Delaware River on June 17.

In anticipation of the big weekend, Washington State's Department of Fish and Wildlife is stocking 14 lakes with rainbow trout.

If the average Father's Day gift is less than $120, why are we touting ideas that can cost up to $150? Call it a plea for gender equality. The National Retail Federation reports the average person spent $152 on Mother's Day this year. So why not buck projections and give Dad the same?