Top 10 cars you've probably never heard of
Think you know cars? You still might not know the ones on this list, from automakers we're not used to seeing here in the US. High-end marques like Mercedes-Benz, Audi, and Ferrari pioneer automotive trends and technology. Features developed for these vehicles trickle down to the auto sales of mass-market machines you're more likely to have in your own driveway. But the brands you've heard of are not the only ones on the cutting edge. Limited-production automakers execute unique concepts for a niche market. When their groundbreaking technology proves practical, it also eventually finds its way into more common cars. See if you can spot any potentially practical car features in this Top 10 list of vehicles so unique, even the best-read auto enthusiast may not have seen them all.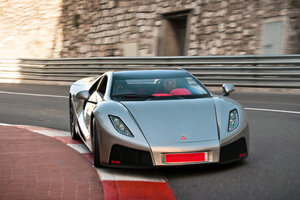 GTA Motor
1.

GTA Motor / Spano

We don't hear much about Spanish automobiles on this side of the Atlantic. But the sporty economy cars of Spain's longstanding marque, Seat (pronouced "SEH-at"), are quite common in Europe. The Spano, on the other hand, is exceptionally exclusive with only 99 examples being developed for as many very lucky drivers. GTA Motor is an engineering lab that develops technology for Formula 1 racing cars, and it's quite clear they haven't cut any corners in developing their first road car. A strikingly beautiful body of titanium, carbon fiber honeycomb, and Kevlar is wrapped around a colossal 8.3 liter V10 that's been supercharged to achieve stratospheric output of 820 horsepower.

That time-honored combination of light weight and heavy power sends the Spano to100 kilometers per second (62 miles per hour) in less than three seconds and on to a top speed of "over 217 m.p.h."

With a panoramic sunroof, carbon-swathed interior, and big swooping exterior lines, the Spano ticks all the boxes for supercar greatness. It stands out without being gaudy, and stands up when the driver puts his foot down. I even like the GTA badge.