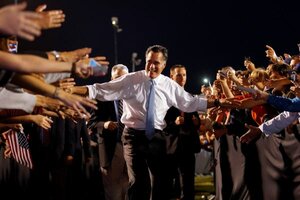 Brian Snyder/Reuters/File
2.

Florida

More than any other battleground state, Florida has ridden the highs and lows of the housing bubble. After the Great Recession, real estate prices plummeted and foreclosures soared. The Sunshine State is still struggling.


Florida has the second-highest number of foreclosures after California, according to foreclosure tracker RealtyTrac, based in Irvine, Calif. Seven Florida metros rank among the top 20 in terms of foreclosure rates. In all but one of them, foreclosure rates are increasing.

Of the 800,000 jobs the state lost since the Great Recession, only a quarter have been regained. High growth in professional and business services has been offset partially by losses in construction (down 5,000 over the past year) and government (down 11,300). By one estimate, the state won't regain its prerecession peak for another seven years.

Long periods of unemployment will be especially hard on the unemployed, since the state ranks last for the share of people who qualify for unemployment benefits. Starting next year, the state will cut the allowable weeks of unemployment insurance from 23 weeks to 19.

Not all is gloomy. A recent American Express survey found that 54 percent of Florida business owners had a positive outlook on the economy and 82 percent (versus 69 percent nationally) are planning to grow their business over the next six months.

Advantage: Romney, but within the margin of error.