Four trends that could help your career in 2013
With unemployment still high, many Americans are looking to find a job, change careers, or update their skills. They're aiming to adapt to a workplace that itself is evolving. So before you take that position that offers more pay or benefits, consider how it fits into your career plan and the workplace of the future. Here are four trends for 2013 that can help you make smart career moves.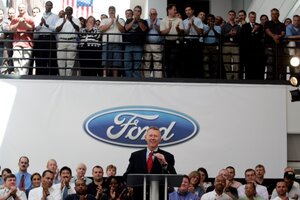 Rebecca Cook/Reuters/File
1.

Deeper diversity

Average life spans are increasing. By 2025, the number of people over age 60 could rise by 70 percent. Today you can find baby boomers, Generation Xers, and Millennials all working together. Together with company founders and college interns, offices could feature five diverse generations under the same roof.

This blend represents a hidden strength for companies savvy enough to tap it. Each generation brings a unique life path, set of experiences, and style of thinking to an organization. The sum of these generational nuances, along with race and gender, creates the "deep diversity" discussed in "The Future of Work" report by the Institute for the Future for my organization, the Apollo Research Institute. An experiment at the Massachusetts Institute of Technology showed that team members with highly diverse backgrounds performed more effectively on a complex task requiring joint effort than a group of individuals with high IQs.

More companies are cultivating this wellspring. A Forbes diversity survey noted that 72 percent of firms have age-diversity programs in place. Managers leading these efforts will benefit by learning the skill of cross-cultural competency. According to the Institute for the Future's "Future Work Skills 2020" report, cross-cultural competency enables individuals to work smoothly with colleagues from different cultural settings, identify their shared viewpoints, and match them to the right projects.