Five brokers' secrets you should know before trading online
No one knows where the market will head this year or if the wrangling in Washington will lead to real progress on the deficit. But there is one financial trend we do know is not changing anytime soon: Retail investors are overpaying their brokers for trading online. A recent NerdWallet study found that over 17 million investors with the three largest online brokerages – Schwab, E-trade, and TD Ameritrade – are paying more than $1.8 billion every year on trading fees and brokerage services that most of them don't need. Here are five brokerage secrets you should know before trading online: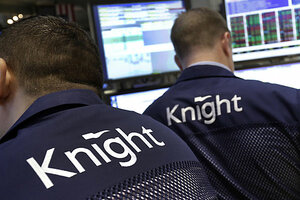 Richard Drew/AP/File
1.

Higher prices don't mean faster or better trades

The big three discount brokers – Schwab, E-trade, and TD Ameritrade – typically charge $7.99 to $9.99 per trade in addition to other fees. Deep discount brokerages only charge $1.00 to $5.00 per trade. Investors might assume they are receiving superior trade execution for these additional charges accrued. But NerdWallet's analysis didn't find that to be the case.

Indeed, the big guys use the same execution service as the cheaper deep-discount brokers. For example, TD Ameritrade and Scottrade use Citadel, Citigroup, and Knight for execution services. (Knight has agreed to a $1.4 billion merger with another trading firm, Getco.)

The deep discount brokerages TradeKing and Cobra Trading use these same execution services.

For the services most investors need on a regular basis, NerdWallet found they could be trading far more affordably with a discount brokerage.