Five auto parts you should buy online
Chances are, you, or someone you love, is driving a car with over 100,000 miles – or 10-plus years – on it. More aging cars are crowding the roads than ever before and, with them, a growing population of do-it-yourself mechanics. Increasingly, these DIYers, are turning to the Internet to buy auto parts. Buying online isn't the best choice if you need a part right away or buying something inexpensive and readily available, like a quart of oil. But if it's not a time-critical repair, a hard to find custom part, or something expensive enough that it makes sense to compare prices, then it's time to fire up your computer. Here are five parts that the experts at AutoPartsWarehouse.com say make the most sense to buy online: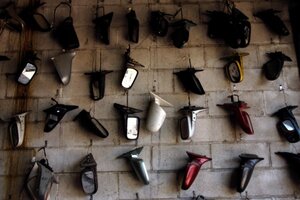 Andy Nelson/The Christian Science Monitor/File
1.

Mirrors

Side mirrors are an excellent auto part to purchase online. They are relatively easy to install, they tend to get damaged more often than other areas of the vehicle, and they can be very expensive. There is a huge selection online – including quality aftermarket and original equipment (what the dealer would sell). Upgradable mirrors that enhance the appearance of your car or improve driving performance and safety, such as turn signal modules or towing mirrors, are also easy to get on the Web, often at a significant discount compared to what dealers charge.