Forbes billionaires list: Meet the nine richest self-made women
Forbes has released its 2013 Billionaires List, and nestled among the usual Warren Buffetts, Carlos Slims, and wealthy heirs were women who have made or helped make their own fortunes, in industries ranging from television to real estate to clothing. Here are the nine richest self-made women on Forbes's 2013 Billioniares List. Can you guess who grabbed the top spot?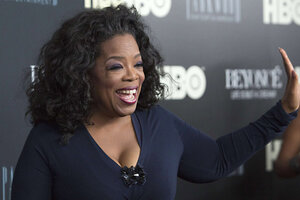 Andrew Kelly/Reuters/File
9.

Oprah Winfrey

Net worth: $2.8 Billion

Country: United States

Source of wealth: Television – Harpo Productions

Overall Forbes rank: Tied for #503

Oprah has her own eponymous magazine and a fledgling cable network, OWN, which looks to be gaining steam after a rocky start. (Thanks to a deal with Comcast, OWN is available to 83 million households.) But the majority of her wealth comes from her long-running daytime talk show, which ended in 2011, and production company, Harpo, a major player in daytime televisions syndication, with a stake in the Dr. Phil, Rachel Ray, and Dr. Oz shows.

As in previous years, the Forbes Billionaires List is dominated by inherited money, particularly with women. The Top 5 men on the Forbes List made their own fortunes, but the top-ranked woman who didn't inherit or marry into the bulk of her money comes in all the way down at #195.

The net worth of this group range from over $2 billion to nearly $7 billion. Three women on the list come from China, four from the United States, and one each from Switzerland and Spain.