Five ways to save money when buying online
Saving money online isn't hard, but it can be tricky for shoppers. We're bombarded with advertisements and recommendations to buy quickly in order to save the most. New websites claims to offer the best price, but carry unwarranted guarantees. Much like walking through a shopping mall, if you want to spend money when you are online, there's always an opportunity to do so. Instead of buying online just to buy, aim to buy and save with these five shopping methods: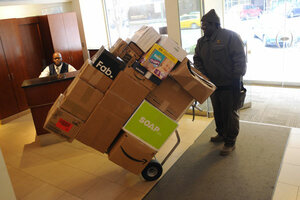 Keith Bedford/Reuters/File
1.

Always look for a promo code

Applying promo codes at checkout is an easy way to ensure you save money on every online purchase. Promo codes help you get large percentage savings off of retail prices and already discounted prices, as well as help you to earn extras such as free trials or free shipping.

Many websites are designed specifically to help you find the best promo code available from mainstream retailers, however it is often most efficient to simply look for promo codes using your standard search engine. You may not land on a coupon code website in every search, but you'll have a larger picture of all codes available by searching the entire Web, rather than a single coupon site.

If you are buying from a manufacturer's website, such as Sony.com, type into your search engine the manufacturer's name and the words 'promo code' and hit search. If you are buying from a retailer site, such as Amazon.com, type in the domain and the words promo code, for example 'amazon.com promo code' and hit search. You will quickly discover there are dozens of promo codes floating around online that can save you big bucks with minimal effort.