Student loans a worry? 10 states with the lowest student debt
College, as we all know, is getting prohibitively expensive. Student debt levels, too, are rising: 7 in 10 college seniors who graduated in 2012 incurred student loan debt along the way to the tune of $29,400 on average, according to a recent study from The Institute for College Access and Success (TICAS) But debt levels aren't uniform across the country. Read on for the 10 states with the lowest average student debt levels, according to TICAS. Can you guess which state had the lowest debt for seniors who took out student loans?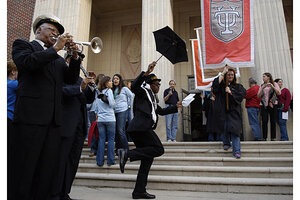 Andy Nelson/Staff/File
10.

Louisiana

Average debt: $22,789

Proportion of students with debt: 48 percent

State averages for student loans varied widely in 2012. The state with the biggest average debt load, Delaware, was well over $33,000. Louisiana's average was more than $10,000 less. The 10 lowest states fell within a $5,000 range of one another.

To come up with state rankings, TICAS relied on self-reported data from public and private colleges across the country. For-profit colleges were not included, TICAS noted, because such institutions rarely disclose financial figures. At least two-thirds of colleges from most states volunteered information: In Louisiana, about 64 percent of Bachelor's degree recipients were included in the data.

Colleges are not required to report debt levels for seniors, something that TICAS would like to see changed at the federal level. "The limitations of relying on voluntarily reported data underscore the need for federal collection of student debt data for all schools," the report says. "Even for colleges that do report voluntarily, the debt figures in the report may understate actual borrowing because they do not include transfer students or any private loans the college was unaware of."

Nationally, the proportion of seniors graduating with some level of debt has risen steadily in recent years, from 68 percent in 2008 to 71 percent in 2012, with debt levels rising at a clip of about 6 percent per year.