Tim Cook comes out: 7 milestones for gay rights in the corporate world
When Apple CEO Tim Cook publicly stated that he is "proud to be gay" in an essay for Bloomberg Businessweek, he made a point to acknowledge that he wouldn't have been able to do so a few decades before. "The world has changed so much since I was a kid," he wrote. "America is moving toward marriage equality, and the public figures who have bravely come out have helped change perceptions and made our culture more tolerant... I don't consider myself an activist, but I realize how much I've benefited from the sacrifice of others."
Cook is easily the most prominent executive of a public company to come out, but his doing so marks a shift in the corporate world in recent years – private companies have been making big moves when it comes to LGBT rights. Still, this certainly hasn't been overnight change. Here's a look at seven milestones for the LGBT community in the business world, from private sector companies that were early adopters of pro-LGBT policies (some genuine champions of the cause, some purely for economic reasons) to publicly gay executives who came before Cook.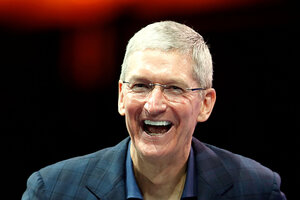 Lucy Nicholson/Reuters/File
1.

Tim Cook

What: The most prominent publicly gay CEO in the US

Apple CEO Tim Cook hasn't made any point of hiding his sexual orientation since he took the reins of Apple in 2011; the fact that he is gay has been somewhat of an open secret in tech and LGBT circles for quite some time.

That he hadn't acknowledged it publicly was more out of a desire for privacy, he wrote in Businessweek. "Throughout my professional life, I've tried to maintain a basic level of privacy," he wrote. "I come from humble roots, and I don't seek to draw attention to myself. Apple is already one of the most closely watched companies in the world, and I like keeping the focus on our products…"

"For years, I've been open with many people about my sexual orientation," he continued. "Plenty of colleagues at Apple know I'm gay, and it doesn't seem to make a difference in the way they treat me. Of course, I've had the good fortune to work at a company that loves creativity and innovation and knows it can only flourish when you embrace people's differences. Not everyone is so lucky.

The Businessweek essay comes a few days after Cook criticized Alabama, his home state, on its record of LGBT rights in a speech for his induction into the Alabama Academy of Honor. Cook is a Robertsdale, Ala. native and attended Auburn University. Alabama doesn't allow same sex marriage, nor offer legal protections based on sexual orientation or gender identity. Cook noted that a worker in Alabama could still be fired on the basis of sexual orientation.

Besides Cook and Apple, private sector companies have been making big moves when it come to LGBT rights this year. In early April, graham cracker maker Honey Maid ran an ad that featured gay families, and when it received backlash for the ad, it ran a second spot showing the criticism rolled up into paper tubes that spelled out "Love." Just before that, Mozilla dropped its new CEO after it came to light he donated to California's anti-gay marriage Proposition 8 campaign. Guinness, Heineken, and Boston Beer Co. (maker of Sam Adams Beer) dropped their sponsorship of major St. Patrick's Day parades over the parades' exclusion of LGBT marchers.