Why is Nintendo stock plunging? Nintendo didn't make Pokémon Go.
Nintendo stocks fell 18 percent on Monday after Nintendo informed investors on Friday that they aren't expecting major profits from Pokémon Go's international popularity. Nintendo is a stakeholder in Pokémon Go, but it didn't create the game.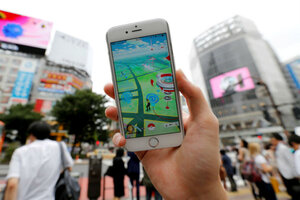 Toru Hanai/Reuters/File
The Pokémon Go craze may be fading for investors. Nintendo stocks fell 18 percent on Monday -- the largest daily drop allowed on Tokyo's stock exchange and the most Nintendo shares have fallen since 1990.
After a Friday spent launching the augmented reality game in Nintendo's home country of Japan, Nintendo executives informed investors that Nintendo would not be expecting major profits from Pokémon Go, even after weeks of huge success in the United States. 
Pokémon Go encourages users to search for Pokémon characters projected into the user's environment when looking through a smartphone screen. Within two weeks of the app's US release on July 7th, Nintendo stocks had surged 120 percent, adding $23 billion to Nintendo's overall value.
However, profits from Pokémon Go don't return solely to Nintendo. The app is the result of a collaboration between the Pokémon Company, Nintendo, and Niantic, an American software development company that developed the augmented reality technology for the game. Although Nintendo has a stake in both the Pokémon Company and Niantic, it owns neither outright.
Nintendo owns only 32 percent of the Pokémon Company, which regulates the purchasing and licensing of all things Pokémon. Both Nintendo and Pokémon have undisclosed stakes in Niantic, along with Google. Nintendo has an "effective economic stake" of 13 percent in the Pokémon Go app, David Gibson, a senior analyst at Macquarie Securities, told Bloomberg.
Additionally, the public's interest in the app is cooling after a red hot few weeks following its release. According to SurveyMonkey Intelligence, downloads of the Pokémon Go app in the United States were the highest on the day of its release. The number of daily users of the app peaked July 14th, about a week after its release. Google searches regarding the app topped off around the same time.
The app's almost overnight success and status as a cultural phenomenon has likely contributed to its recent downhill movement. Christopher Geroux, writes for the International Business Times, "That degree of instantaneous growth is unprecedented and it's likely the trend can only go down from here."
Other record-setting gaming apps experienced much slower growth than Pokémon Go. For Candy Crush Saga and Angry Birds, for instance, it took months for the games to grow their user base and hit their daily download peaks.
Nintendo, which will report its first quarter earnings this Wednesday, can still expect to profit from user-enhancing features for the Pokémon Go game. The creation of paid add-ons for freely downloaded apps is a common way for tech companies to make a profit on their creations. Nintendo also plans to release Pokémon Go Plus, a wearable piece of hardware that will allow users to catch Pokémon characters without taking out their phone.
Even with the huge boost in interest in Pokémon, and the possibility of profit from future creations, Nintendo executives do not plan to upgrade their annual forecast for the financial year as they have already included future profits from the Pokémon Go Plus into that forecast.
Despite the recent drop, Nintendo's shares are still up 60 percent since the launch of Pokémon Go in the United States. Gibson told Reuters, "The market has overreacted to the Nintendo statement. I believe that Pokémon GO will be material in the company's earnings given the current trends for the game."
Though interest in the game is leveling off in the United States, the launch of Pokémon Go has revived the Nintendo brand name and made the company a player in the businesses of both augmented reality and mobile apps.