2016 tax season: 10 important changes and tips + 10 wacky deductions
This year's income tax season officially opens Jan. 23, 2017. That's when the US Internal Revenue Service (IRS) begins reviewing individual tax-return filings. So it's time to start gathering your documents and calculating how much you owe – or, more importantly, how much the IRS owes you. Here are a few important changes for the 2016 tax year.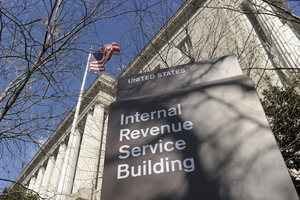 Susan Walsh/AP/File
1.

2017 filing deadline: Three extra days

April 15 is traditionally known as the annual deadline for filing federal income taxes. However, this year taxpayers have a few extra days. The IRS has pushed the filing deadline to Tuesday, April 18 because April 15 falls on a Saturday. Why not Monday, April 17? Because that's a holiday – Emancipation Day – in Washington, DC.