2014 Mazda CX-5: Sporty styling. Compact crossover.
(Read article summary)
The Mazda CX-5, selling for $21,195, features sporty looks, excellent handling, and among the best fuel economy for non-hybrid crossovers.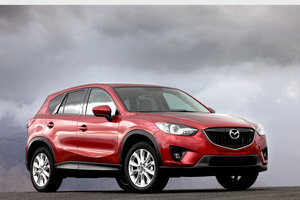 PRNewsFoto/Mazda North American Operations/File
It's very easy to see why compact crossovers such as the Mazda CX-5 have captured a huge part of the American vehicle market. With the parking footprint of a compact sedan, they pack a versatile layout, plenty of features, and enough safety for family use. And in a few cases--the 2014 Mazda CX-5 is one of those--they can drive with the verve of a sport wagon.
For the rest of this story, click here.