Honda Civic vs. Mazda 3: Which budget-friendly sedan is right for you?
(Read article summary)
For decades, both Honda and Mazda have excelled at not just at making good, fuel-efficient subcompact sedans, but also nimble and fun to drive cars.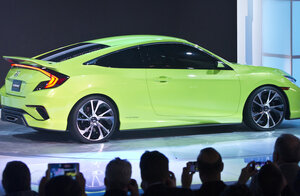 Bebeto Matthews/AP/File
For decades, both Honda and Mazda have excelled at not just at making good, fuel-efficient subcompact sedans (and hatchbacks), but also nimble and fun to drive cars. Their vehicles tend to have more personality than a lot of the other driving appliances out there at the price.
Looking at the latest Mazda 3, this is true, more than ever. And as for the latest Civic, Honda still takes a more comfort- and amenities-focused approach than it used to with the Civic, but it appears to have bounced back gracefully from an ill-conceived redesign.
The Honda Civic got a redesign for 2012 that made it feel, undeniably, a little more conservative; to Honda's credit, it did retain much of the futuristic look and rakish roofline of the previous Civic versions, but with a somewhat careful, evolutionary look in front, combined with a more utilitarian look inside, Honda's clearly emphasized practicality over style this time. Then a quick restyle for 2013 made the Civic much more handsome and chiseled from the front, and darker interior themes and more soft-touch materials made it feel more sophisticated inside. What remains in today's Civic from a design standpoint is still tough to love, mostly the Dali-esque instrument panel curvature.
The Mazda3 is the winner here, and remains one of the most distinctive small-car picks--especially if you opt for the five-door hatchback (a layout not offered in the Civic). Inside, the Mazda3 is more inspiring, more aspirational and cockpit-like, and the upscale look and feel of the new cabin materials clearly trumps those in the Civic. 
The Civic might remain nimble and responsive compared to most other subcompacts, but it's clearly the second choice in terms of performance; its 140-hp, 1.8-liter four is still one of the best, but the steering isn't as precise or as well-weighted as the Mazda's. Honda retired its aging five-speed automatic transmission, replacing it with a continuously variable transmission (CVT); a five-speed manual still is available. 
The Mazda 3 offers a 2.0-liter four rated at 155 horsepower and 150 lb-ft of torque, and a more powerful 2.5-liter version putting out 184 hp and 185 lb-ft of torque. Whether you go for the six-speed manual gearbox or a six-speed automatic transmission, these transmissions bring out a perky driving feel and return good real-world gas mileage. The latest Mazda 3 feels tight, precise, and pleasing in all the right aesthetic and tactile ways from the driver's seat. Steering is the only thing that isn't a clear step ahead in the Mazda, but it still has a more precise feel on the road than the Civic.
Mileage for either of these models is now great, with city ratings in the upper 20s and highway ratings up around 40 mpg--even if you spring for the larger 2.5-liter engine in the Mazda 3. Keep in mind that the Civic also offers an Si model, with a larger 2.4-liter four, as well as a Civic Hybrid, which returns an EPA-rated 44 mpg.
We used to caution away from the Mazda 3 for its harder ride and cabin harshness, but the latest version is better, with a more sophisticated ride and less cabin boom. What we still would point to as a weakness of the Mazda 3 is its cramped cabin, and especially the 'scrunched' feel of the back seat compared to that of the Civic. It's true that the Mazda is offered either as a sedan or hatchback, but it's the case in either body style that form trumped function to a higher degree than in the Honda--which would be our choice of the two if you need to carry adults in the back seat at times.
The former Mazda 3 wasn't a strong performer for safety, but what a difference a new edition makes. For 2015, the Mazda 3 is a IIHS Top Safety Pick+ choice, with top scores all around, and available forward-collision warnings with Smart City Brake Support, which can anticipate a collision and activate emergency braking under 19 mph. The Civic? It's a Top Safety Pick, an excellent crash performer but a car without the forward-collision warning system now sought by the safety agency.
Honda has packed many more features into the Civic in the past couple of years, without any major price hike (although it lost the base DX). All Civics now get Bluetooth hands-free calling connectivity and audio streaming, text-message functionality, Pandora integration, and a rearview camera system. Yet at the top of the lineup, the Mazda 3 offers more, in things like rain-sensing wipers and adaptive bi-xenon headlamps. All 's' versions, as well as 'i' Grand Touring (and optioned 'i' Touring models) include the Mazda Connect system, which brings a large, colorful, high-contrast touch-screen display atop the dash.
Overall, if you simply go by the numbers and consider only value for the money—or want a simple commuting car—you could be satisfied with either the Civic or the Mazda 3. The Civic has become a much more agreeable sedan for commuters, and those who put pragmatism at the top. But especially if you like driving, and want a sharp-looking, sharp-performing car, the Mazda 3 is the clear choice.