'Top Gear' reboot: a hit or a miss?
(Read article summary)
Viewers have reacted negatively to tweaks to the old 'Top Gear' format, as well as to the chemistry between new hosts Chris Evans and Matt LeBlanc.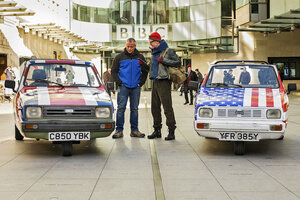 Mark Yeoman/BBC America/AP/File
The automotive world isn't talking as much about Alexander Rossi's fuel-saving win in the 2016 Indianapolis 500 as much as it is about the BBC's rebooted Top Gear series, which also aired over the weekend.
Initial response online appears to have been largely negative, with the bulk of the criticism surrounding new presenter Chris Evans. In a move that might raise some eyebrows in the crisis PR community, Evans sounded off on Twitter over the weekend with a series of rather defensive tweets.
Not all of the blame was placed on Evans, however. Viewers have largely reacted unfavorably to the chemistry between Evans and co-presenter Matt LeBlanc. 
The Extra Gear spinoff, meanwhile, proved surprisingly popular with both viewers and critics, meaning it may have saved the day for the BBC. 
Buried among the many, many, changes that have occurred with the latest Top Gear series was news that the old show's Star in a Reasonably Priced Car segment that saw celebrities zipping around the Top Gear test track would be replaced by a competition involving a rallycross course. 
Chris Harris strapped into a modified Mini Cooper to take us on a virtual tour of the show's rallycross course. In the 360 degree video, Harris, who didn't make an appearance on the first episode of the rebooted Top Gear and instead starred in Extra Gear, drives the course to give us a thorough tour.