JPMorgan earnings: one of five things to watch April 13
JPMorgan earnings will be released before the market opens. Also on tap: Obama's budget plan and more toxic assets for sale.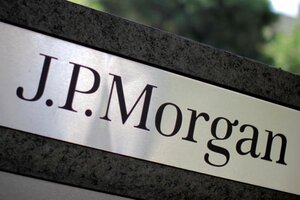 Lucy Nicholson/Reuters/File
By CNBC.com
How much JPMorgan Chase is earning, what the President is cutting, and why you're paying high diesel prices. Oil prices fell again – and for the wrong reasons, as we pointed out Monday. Here's what we're watching for Wednesday …
1. Chase-ing Profits: Plenty for markets to chew on bright and early Wednesday, with financial giant JPMorgan set to release quarterly earnings before the open. As recently as last week, CEO Jamie Dimon spoke of 40 percent higher earnings when a "normal" business environment return. The question now: Where are we on the way back to normal?
Analysts expect a strong quarter from JPMorgan, with consensus earnings per share of $1.15 on the back of strong commercial lending, trading and investment banking.
Additionally, JPMorgan's numbers set the table for the rest of the sector, with Bank of America, Citigroup, Goldman Sachs and Morgan Stanley to follow in coming days.
2. Pain Beyond the Pump: You're not the only one who has it bad when filling up. Diesel prices are more than 30 percent higher year-over-year, to their highest levels since the fall of 2008. Needless to say, that hike directly affects trucking companies. The American Trucking Association estimates that the industry will spend $136 billion on diesel in 2011 ... or $34 billion more than it spent in 2010. Of course, that cost will be passed along in many cases to retailers and, by extension, to consumers. So, yes, this is just another way you'll feel the pain of higher energy prices.
3. The President's Scalpel: I'm just as sick of hearing posturing over the budget as you are. But, it's not every day that the president reveals his long-term plan to cure the deficit. That will be Wednesday. In a 1:35 p.m. ET speech following meetings with Congressional leadership, President Obama will detail a prescription that involves fewer spending cuts than the proposal outlined by House Budget Committee Chairman Paul Ryan. Alternatively, he'll renew his proposal to cut Bush-era tax cuts for Americans earning more than $250,000. So, that incessant debate should be fun again.
4. The Data Drumbeat: Two key economic data points Wednesday. At 8:30am ET, we get the government's read on March retail sales, on the heels of last week's tepid chain store sales numbers. The street is looking for a 0.5 percent rise. And the last time we got the Beige Book from the Fed, it illustrated economic recovery in every district, with manufacturing leading the way. What will see when the Fed releases its latest at 2:00pm ET?
5. Get Your Toxic Assets Here! In the continued auction of the Maiden Lane II portfolio (better known as the formerly toxic assets no longer belonging to American International Group, the New York Fed plans to sell 50 residential mortgage bonds with a total face value of $1.23 billion on Wednesday and Thursday. The sales would be the Fed's second and third from the Maiden Lane II portfolio, which was created during the depths of the financial crisis to absorb the troubled mortgage bonds from AIG and help prevent the collapse of what was the world's largest insurer.
SEE ALSO: You think you know the stock market? Take our quiz.