Hyundai cars with possible airbag glitch face federal probe
Hyundai cars, specifically older-model Sonatas, are under investigation from US safety regulators. About 394,000 midsize Hyundai cars from the 2006 through 2008 model years are covered by the probe, announced Friday.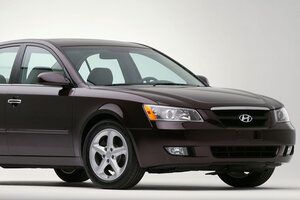 Hyundai/AP/File
US safety regulators are investigating whether an electrical problem can knock out the air bags on some older Hyundai cars.
The probe announced Friday covers about 394,000 midsize cars from the 2006 through 2008 model years.
The National Highway Traffic Safety Administration says it has received 83 complaints about the problem. The agency says a sensor inside the seat belt buckle might fail. This can cause the air bags to malfunction or not inflate if there's a crash.
The problem also can affect the mechanism that tightens the seat belts before a crash. The problem can happen in either the driver or passenger buckles. In most cases the air bag warning light came on.
Investigations can lead to recalls but none has been issued so far in this case.
Hyundai will cooperate with the NHTSA in its investigation, company spokesman Jim Trainor said in an email.
Earlier this month, Hyundai recalled about 58,000 Elantra Touring cars in the United States and Canada from model years 2010 to 2012 because a support bracket to the car's headliner may become displaced during a side curtain air bag deployment, US safety regulators said. According to Reuters: 
If this bracket makes contact with anyone during a crash, it may cause lacerations, said the U.S. National Highway Traffic Safety Administration.

A Hyundai spokesman said there have been no reports of injuries related to this issue.

About 35,000 of the recalled cars are in the United States, and about 23,000 in Canada, NHTSA said.

Hyundai dealers will apply adhesive strips to the headliner, NHTSA said. The recall is expected to begin by mid-August. (Reporting by Bernie Woodall)