GM CEO Barra looks ahead after 'troubling' year
General Motors CEO Mary Barra says the automaker is 'moving forward' after a year full of scandal and embarrassing missteps. Despite an ignition switch defect linked to a recall of 2.6 million cars and linked to several deaths, GM sales climbed 5.6 percent in 2014.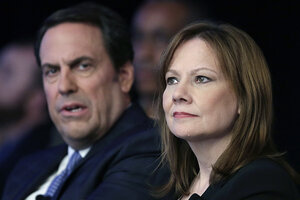 Mark Lennihan/AP/File
After weathering a year filled with scandal, embarrassing missteps and the tarnishing of a corporate image that few companies have ever endured, General Motors is ready to turn the page on 2014.
Speaking before a group of reporters from the automaker's Detroit headquarters Thursday, CEO Mary Barra—who marks her first anniversary at the company's helm this month—said: "I didn't expect it to unfold like it did. It was clearly a tragedy and troubling."
"GM has learned from it and is moving forward."

Recommended:
Car logos quiz
If you were expecting Barra to rehash how GM engineers and executives created, and then failed to acknowledge, faulty ignition switches in 2.6 million vehicles, think again. Over the past year, the CEO has stood up, taken the bashing and focused on getting past the scandal.
She started by creating a new office inside the company to oversee how it handles safety issues. After that, she announced that the automaker would start holding executives and employees accountable for their actions, or lack thereof.
"The message internally is we have to be quick, and be quick to respond in minimizing challenges," she said.
Although Barra said she can tell GM is a better company, there's yet to be any third-party data to back that claim—if it ever comes. The proof will be in vehicle reliability scores and the number of recalls the company issues in years to come.
Still, there's no denying buyers have gotten past the recall scandal and any doubts it may have created.
GM's sales climbed 5.6 percent last year, according to research firm Autodata. That's equivalent to the sales increase of the overall U.S. auto industry over the same period.
Meanwhile, the automaker is selling new models for more than $36,000, on average. That leads the industry among nonluxury automakers, according to TrueCar.com.
In China, GM is a strong No. 2 and in Europe, the company is on track to turn a profit in 2016. That would be GM's first profit in Europe since 1999.
"GM is moving in a very positive direction. We are making the right decisions," Barra said. "Getting by is not my idea of winning."