Home sales index rises in May, up 13.3 percent from 2011
(Read article summary)
Home sales data recently released by the National Association of Realtors showed that its index of sales agreements rose in May, up 13.3 percent from 2011. The trend matches the fastest pace for the index in two years.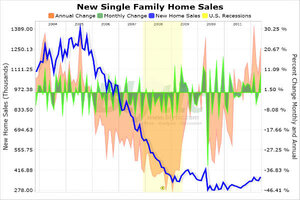 SoldAtTheTop
Recently, the U.S. Census Department released its monthly New Residential Home Sales Report for May showing a notable monthly increase with sales climbing 7.6% since April and rising 19.8% above the level seen in May 2011 but remaining at an historically low level of 369K SAAR units.
It's important to recognize that the inventory of new homes remained near the low for the series at 145K units, nearly the lowest level seen in in at least 47 years while the median number of months for sale went flat at 7.9.
The monthly supply declined to 4.7 months while the median selling price increased 5.63% and the average selling price increased 4.26% from the year ago level.
The following chart shows the extent of sales decline to date.