Round trip flights across the globe for as little as $200
(Read article summary)
Nothing clears up the polar vortex blues like a $200 round trip flight to San Francisco or a $400 round trip flight to Hawaii. Want more of that kind of cure? Check out these flight deals.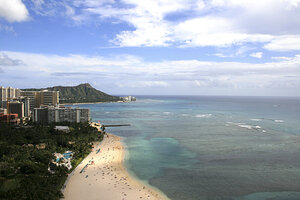 Hilton Hawaiian Village Beach Resort & Spa/AP/File
Your cruise leaves from Miami, but you live in Los Angeles. You found the perfect hotel in Dubai, but you're stuck in Chicago. Sometimes the only thing standing between you and your dream vacation is the distance. With that in mind, we've rounded up the week's best airfare sales from airlines like Delta, United, and Qatar Airways.
Marcy Bonebright is a features writer for Dealnews.com, where this article first appeared: http://dealnews.com/features/best-travel-deals/