Shoe deals to kick off your week
(Read article summary)
Every Sunday is the first day of the rest of your life--or, if you're not ready to think that far ahead, at least your week. Why not change things up this week with a new pair of kicks? Check out these shoe deals that will jump start your closet and your week.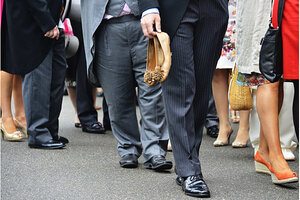 Toby Melville/Reuters/File
Has your personality been feeling a little one-dimensional lately? Maybe you're always Good Guy Greg, and never Scumbag Steve? With this week's best shoe deals, we're highlighting footwear that'll let you unleash your inner bad boy or girl ... or rein them in. Save $140 on a pair of Steve Madden boots, get $39 off some L.L.Bean penny loafers, or score a pair of Body Central ballet flats for just $7.
Marcy Bonebright is a features writer for Deal News, where this article first appeared: http://dealnews.com/features/best-shoe-deals/